Brit is the author of "Living With Three Boys" and the epitome of a Mom & Wife that does it all. Her story gives me goosebumps every time I read it. It's amazing to see how God has worked and continues to work in her life. I'm thrilled that she agreed to guest post here at MomAndWife.com!
It's a peculiar place to be, six months pregnant with a baby you were told you could never have and an 18-month-old crawling at your feet, but that's where I was. And, as overwhelming as it seemed, I was ecstatic to be there. The adoption process for our oldest son was hard, so hard. Foster-to-adopt is an extreme blessing, but it's not for the faint of heart. We had finally made it out on the other side, and just our one boy was more than enough for us, but God had some big plans.
And being pregnant with a miracle baby wasn't even the beginning…
I'll never forget the day. My oldest son (then my only son), Stone, was in his one day of Mother's Day Out and I was scrubbing the kitchen when the phone rang. It was his school. Instead of being told he was hurt or sick, I was told something totally different.
"Um, Mrs. Chambers? A lady from CPS called and asked if Stone was a student here. I refused to give her any information because I didn't know if she was truly from CPS, but I did give her your number. I really hope I did the right thing!"
Hmmm… this is when I got a bit scared. Or make that really scared. Stone was legally adopted, but I had a huge fear (if only in that instant) that someone had found a loophole and they were going to try and take my son from me.
I won't lie and tell you that travel plans to Mexico hadn't already started forming in my head.
Instead, just a few moments later, CPS called, "Hi Mrs. Chambers. We are in the process of removing Stone's biological brother from his mother's care. Would you be willing to take him?"
Okay, not what I was expecting.
In hindsight, I should have known what was coming, but I can honestly say that I was blindsided. We knew Stone's birthmom had been pregnant when we adopted Stone. The state actually used the pregnancy as a bargaining tool to remove Stone from his birthmother's custody. But this?
Thoughts of excitement started racing through my head. We could do this! We could totally do this. I'd always wanted a large family. I was excited. I called my husband. I prepared myself for his response. He's not impulsive. He actually thinks things through, and can put his excitement at bay to make logical decisions. I expected to be bombarded with questions like, "Can we afford this?" "Does he have any delays?" "How will you continue to work?" etc.
Instead I only got one question, "When do we pick him up?"
I took a while to get everything solidified, but Cash Judson Chambers joined our family on July 18, 2008. He had just turned five months old. One month and two days later, on August 20, 2008, our youngest son, Holden Brazell Chambers was born.
To say those beginning few months were an adventure, would be a total understatement.
I'll be the first to tell you that I wasn't the one that chose this path. It was chosen for me and totally masterminded by God. Who else could create something so perfect?
But, adoption in general, and ours specifically, didn't come without scars. We're still fighting to adopt Cash. We've endured many visits with birthparents and adjusted many times to new normals. But, we'd do it again in a heartbeat!
Now that the boys are older, we have a new busy-ness, and God continues to bless us. I'm doing things I never thought I'd do, like homeschooling, serving as a foster care and autism advocate, making extreme frugal calls to keep our house 'o many littles afloat, obsessing quite a bit about every morsel of food my kids eat and trying to stay ahead of the game by cooking huge batches of food.
You can keep up with our daily adventures, and see where God leads us next, by visiting Living with 3 Boys of our Own.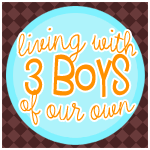 Thank you so much Brit!