These are great for an appetizer, side, to take to dinner at someone's house, or anytime you have friends over.
Bundles, roll ups, call 'em what you want. They're delicious!
INGREDIENTS
-1 (12 slices) pack of bacon
-2 cans of green beans
-1 stick of butter
-1 cup of brown sugar
-1 Tablespoon Garlic Powder
-1 teaspoon Sea Salt (or regular salt)
-1 Tablespoon Pepper ( I used white pepper & black pepper)
(OR use garlic pepper instead of each individual ingredient, it's delicious!)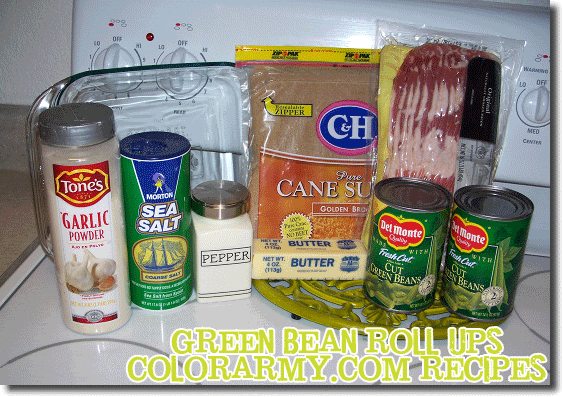 STEP 1
Preheat your oven to 375 degrees.
Cut your bacon in half. (if you prefer less bacon, you can cut your halves in half)
Drain your green beans.
STEP 2
Place a few green beans in the middle of your bacon half, as seen below.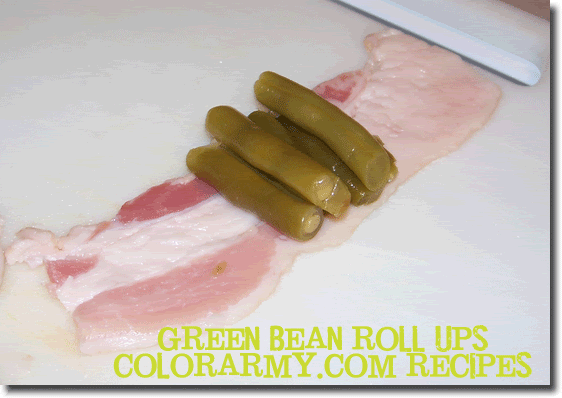 STEP 3
Roll the bacon up around the green beans, and tuck the end underneath. It will look like the picture below: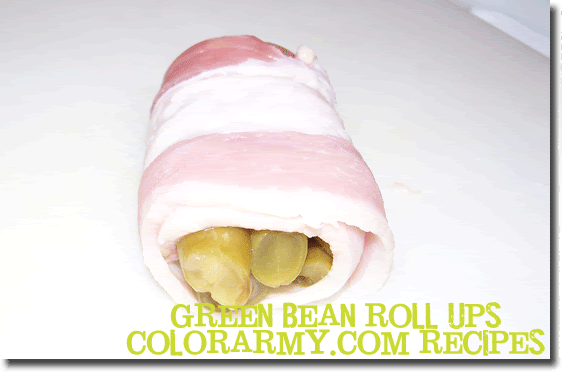 Repeat this process until you've used all of your green beans.
You can place them in your baking dish as you go. I used an 8×8 casserole, but if I'm making it for a larger group of people I use a 13×9.

STEP 4
After you've rolled all of your green beans, and placed them in your dish you can begin making your "glaze".
You can either melt all of these ingredients in a sauce pan, or you can melt them in the microwave.
I used a pyrex measuring cup, and melted them in the microwave.
Combine your brown sugar, butter, garlic, salt & pepper and melt them however you like.
Pour your glaze over your roll ups. They should look similar to the picture below:

STEP 5
Bake your "bundles" for 45 minutes, or until the bacon looks crispy. I love the way our house smells while these are cooking 🙂
Here's how mine turned out: