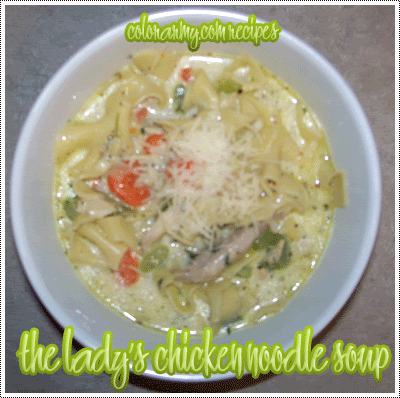 This is a recipe from one of my Paula Deen cookbooks.
My mother also makes this for us when it's cold out.
It's 44 degrees and rainy today, so I made it for dinner tonight.
Since this is a Paula Deen recipe, I've simply copied and pasted her original recipe, and included my own photographs.
Here is a link to her original recipe on foodnetwork.com:
http://www.foodnetwork.com/recipes/paula-deen/the-ladys-chicken-noodle-soup-recipe/index.html
INGREDIENTS:
-Stock:
* 1 (2 1/2 to 3-pound) fryer chicken, cut up
* 3 1/2 quarts water
* 1 onion, peeled and diced
* 1 1/2 to 2 teaspoons Italian seasoning
* 1 teaspoon lemon-pepper seasoning
* 3 cloves garlic, minced
* 4 bay leaves
* 3 chicken bouillon cubes
* Kosher salt and freshly ground black pepper
-Soup:
* 2 cups sliced carrots
* 2 cups sliced celery, with leafy green tops
* 2 1/2 cups uncooked egg noodles
* 1 cup sliced mushrooms
* 3 tablespoons chopped fresh parsley leaves
* 1/3 cup cooking sherry
* 2 teaspoons chopped fresh rosemary leaves
* 1 cup grated Parmesan, optional
* 3/4 cup heavy cream, optional
* Seasoning salt
* Freshly ground black pepper
* Crusty French bread, for serving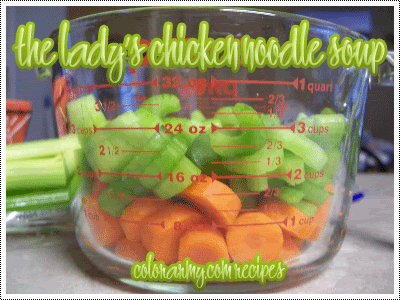 ___________________________________________
Directions
For the stock:
add all ingredients to a soup pot. Cook until chicken is tender, about 35 to 45 minutes.
Remove chicken from pot and set aside to cool. Remove and discard bay leaves and
onion. You should have approximately 3 quarts of stock. When chicken is cool enough to
touch, pick bones clean, discarding bones, skin, and cartilage. Set chicken aside.
For the soup:
bring stock back to a boil, add carrots, and cook for 3 minutes.
Add celery and continue to cook for 5 to 10 minutes. Add egg noodles
and cook according to directions on package. When noodles are done,
add chicken, mushrooms, parsley, sherry and rosemary. Add Parmesan and
cream, if using. Cook for another 2 minutes. Adjust seasoning, if needed, by
adding seasoning salt and pepper. Enjoy along with a nice hot crusty loaf of French bread.