CHICKEN POT PIE
My friend Brandy taught me this recipe, it's really easy, and really good!

INGREDIENTS:
-2 cans cream of chicken soup (I used reduced fat, tastes the same to me)
-2 medium sized boneless chicken breasts
-2 store bought refrigerated pie crusts (brought to room temperature)
-2 cans mixed vegetables, or 1 bag frozen mixed vegetables
-1 onion (optional)
-1 8×8 casserole dish
First you're going to cook your chicken breasts.
You can cook your chicken however you'd like.
STEP 1)
I put my two (frozen) chicken breasts in an oven safe dish with garlic powder, salt, & pepper-covered it in foil and put it in a 375 degree oven for 45 minutes to an hour. Make sure the internal temperature reaches 165° to 170°F. Of course if your chicken is thawed you won't need to cook it near as long.
I chopped an onion and sautéed it while the chicken was cooking.
STEP 2)
Chop your chicken into bite sized pieces. Drain your vegetables and put them in a large mixing bowl along with the chicken breast, both cans of cream of chicken soup & your sautéed onions if you chose to add them.

STEP 3)
Next-spray your 8×8 casserole dish with a non-stick spray (PAM). Then place one of the pie crusts into the bottom of the dish & pour your cream of chicken-chicken breast-vegetable mixture into the dish on top of the pie crust.
STEP 4)
Place the other pie crust on top of the mixture. Cut a few slits & brush some melted butter or an egg wash on top. This is what mine looked like before I put it in the oven: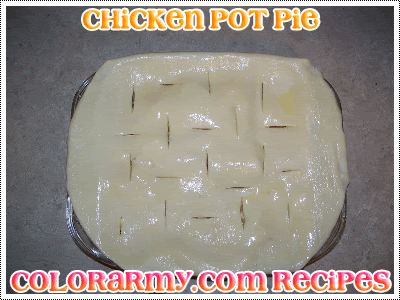 STEP 5)
Put your pot pie in the oven on 375 degrees for around 15-20 minutes, or until the top looks golden brown. Just keep an eye on it, everyone's oven is different. I always turn the broiler on for a couple of minutes to brown the top a little bit more.
STEP 6)
Eat it 🙂
Here's what my finished product looked like: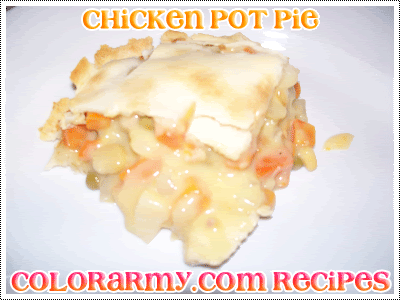 Just An Idea:
If you have the time to buy all fresh ingredients this recipe would be even better.
You can also use puff pastry and cut it into strips for the top of the pot pie instead of placing the other pie crust on top.