My Husband made these last week, and they were soooo good I had to share the recipe with y'all!
INGREDIENTS
– 1 onion (minced)
– 2 cans of cream of chicken soup
– 2 cups freshly grated monterey jack cheese
– 1 cup of cheddar cheese
– 1 small can of mild green chilies (diced)
– 1 pint of sour cream
– 1 package of flour tortillas
– diced black olives (optional)
– 3/4 cup of Milk
– 2 chicken breasts
step 1
Preheat your oven to 350°F.
step 2
Boil 2 chicken breasts with salt & pepper until cooked through (160-170 degrees in the thickest part). Let cool, and then pull apart. Set aside.
step 3
Combine your onion, both cans of cream of chicken soup, green chilies, sour cream, olives, and 3/4 cup of milk in a large pot and heat throughout. This is what we'll be referring to as your "sauce."
step 4
Heat your tortillas in the microwave with a paper towel between each one for about 30-60 seconds or until warm.
step 5
Fill each tortilla with a little bit of chicken, cheese and sauce. Then roll the tortilla and tuck in the sides. Place in your casserole dish seam down, repeat with remaining tortillas. Remember to reserve some cheese for the top.
step 6
Pour the rest of your "sauce" on top of your enchiladas, and sprinkle your remaining cheese on top.
step 7
Bake uncovered for about 30 minutes at 350°F, or until your cheese is slightly bubbly and browned. Below is a picture of what ours looked like before going into the oven: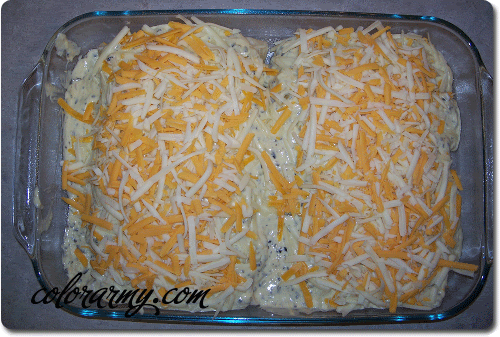 and here is a picture of them when they came out of the oven: