I had no idea what I was going to make for dinner tonight, so I called my mom 🙂
She suggested I make the following recipe, and oh my goodness it's so good!
It kind of reminds me of s.o.s., chicken style .
Good 'ol Mom, never lets me down!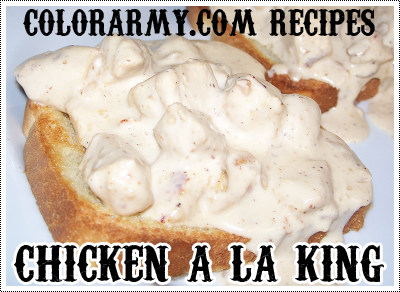 INGREDIENTS:
-4 BONELESS CHICKEN BREASTS, DICED
-4 TABLESPOONS BUTTER
-3 TABLESPOONS OF FLOUR
-1 PINT HEAVY WHIPPING CREAM
-1 CUP OF CHICKEN BROTH
-1/2 ONION, DICED
-SALT & PEPPER
-TOAST
TRADITIONALLY PEOPLE ADD ALL SORTS OF THINGS TO THIS RECIPE-MUSHROOMS-PEAS-PIMENTOS
But I was just using what I have in my fridge.
I USED A DEEP SKILLET FOR THIS ENTIRE DISH, IF YOU DON'T HAVE ONE, TRY USING A STOCK POT.
STEP 1)
Sautee your chicken, and onion in butter until your chicken is done. (internal temperature 170-to be safe)
STEP 2)
Put your chicken and onion on a plate, and set aside.
STEP 3)
Pour 3/4 cup of your chicken broth into your pot. (set the other 1/4 aside)
Add your salt & pepper.
STEP 4)
Stir in your heavy cream.
Increase your heat to medium and stir until almost boiling.
STEP 5)
Mix your flour & 1/4 chicken broth in a small bowl.
Add to your pot, and continue stirring until thickened.
STEP 6)
Add your chicken and onions back to the skillet, and stir.
STEP 7)
Make your toast, and pour the mixture over top.
(I buttered my toast, totally optional lol)
**I like to toast my bread in the broiler, it leaves the bottom of the bread soft.
**I also used a little bit of fresh ground white pepper.