My Mom has been making this recipe as long as I can remember,
it is one of my favorite things she makes 🙂
Here's a picture of my Aunt Melinda "Ninna" & My Mom "Mama J"
I thought this picture was appropriate since this was taken while they were doing dishes,
after a LONG day of cooking for our huge family!

INGREDIENTS:
1 SMALL ONION OR 1/2 LARGE ONION
6 CUPS OF MILK
4 LARGE BAKING POTATOS OR 6 SMALLER ONES
2/3 CUP OF BUTTER ( a stick and a half )
2/3 FLOUR
3/4 tsp SALT
1/2 tsp PEPPER
12 SLICES BACON
1 1/4 CUPS SHREDDED CHEDDAR CHEESE, DIVIDED
1 (8 OZ.) CARTON SOUR CREAM
STEP 1)
Wash your potatoes and poke a few holes in them with a fork.
Wrap them in foil and bake them in a preheated 400 degree oven for about an hour, or until they're done.
(They'll squish a little when you squeeze them)
STEP 2)
While your potatoes are cooking, chop up your onion and sautee it in a skillet until it's tender and transparent.
Then fry your bacon and crumble it into tiny pieces.
STEP 3)
When your potatoes are done, you can either cut them in half and scoop out the "pulp" with a spoon or…
you can do what I do, which is barely cut the skin with a pairing knife and peel the skin off-as shown below: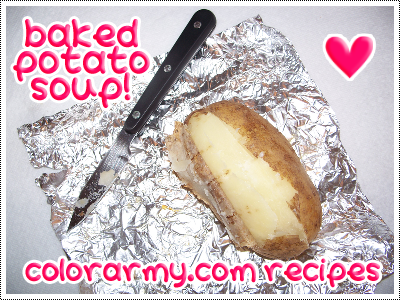 If you do it my way, you'll have to use a fork to break up the potatoes, so they're not whole going into your soup.
STEP 4)
Melt your butter in a heavy saucepan ( i use a stockpot ) over low heat.
Add your flour, and stir until smooth-cook this for one minute while stirring constantly.
Gradually add your milk and continue to stir constantly until your mixture is thick and bubbly.
STEP 5)
Add your potato pulp, salt, pepper, onion, 1/2 cup of bacon and 1 cup of cheese.
Cook this until it's heated throughly.
Then stir in your sour cream.
If your soup is too thick, add more milk until you get the desired consistency.
Just be careful not to add too much.
I garnish mine with sour cream, crumbled bacon, and more cheese 🙂